---
How well do you know your website visitors?
Once you have invested in search engine marketing for your business/website, you also need to ensure you have a good analytics package in place to give you a better understanding of those who are visiting your website and how effective each element of your offline and online marketing efforts are for you.
Google Analytics is probably the most well-used and well-known analytics package out there, but there are many just as good, some that record different data. The successful use of analytics, should underpin the majority of your marketing strategy including email marketing, direct marketing, search engine optimisation, pay per click advertising, social media and so much more.

The only negative really for analytics is there is the sheer volume of data available. We understand that trying to interpret and abstract the elements that matter to you and your business can be daunting and also extremely time consuming, so simple yet impactful reporting is what we do best.
At beseenonline, analytics is at the core of everything we do – we are all about results! Yes, many search engine marketing companies may simply tell you where your website is ranking in the search engines and stop there, but we like to tell you more. We like to tell you how effective our PPC or SEO services are in terms of: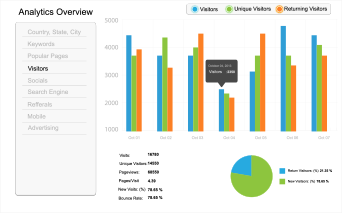 Increased traffic to your website via the search engines
Percentage of traffic from the search engines
Which search engines are producing you the best results
Bounce rates from search engine traffic
Enhanced quality of traffic to your website
We also like to provide our customers with key information about the overall website performance too such as:
Increased traffic to the website
Overall bounce rates
Most popular content
Where your visitors are located
What devices your visitors are using
Percentage of traffic from other referring sources i.e. direct, email, links from partner sites
But most importantly of all, we like to report back to you an increase in conversions i.e. enquiries, sales, downloads etc., as this is the end goal and most valuable information to any business.
To find out more about our analytics and reporting packages for SEO, PPC or analytics or to discuss your individual needs, please phone 01795 810820 or complete our online enquiry form and we will be in contact.
Our Services
---